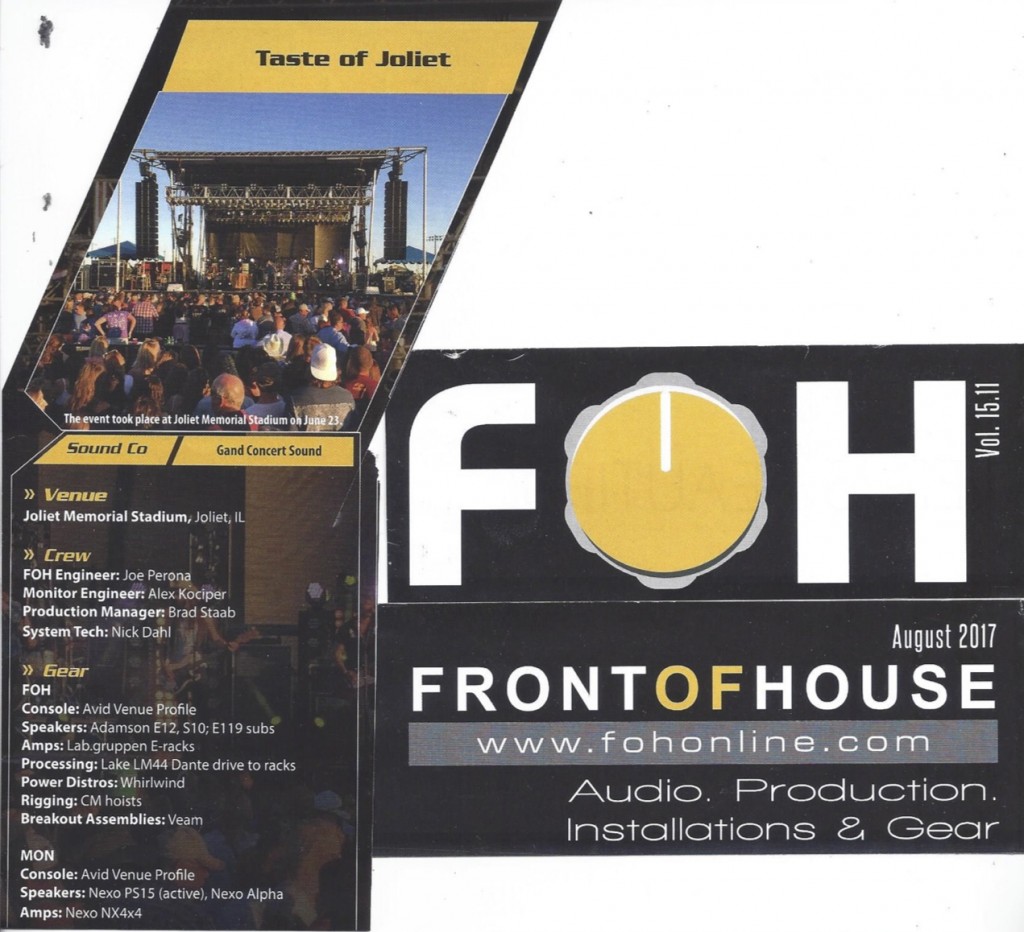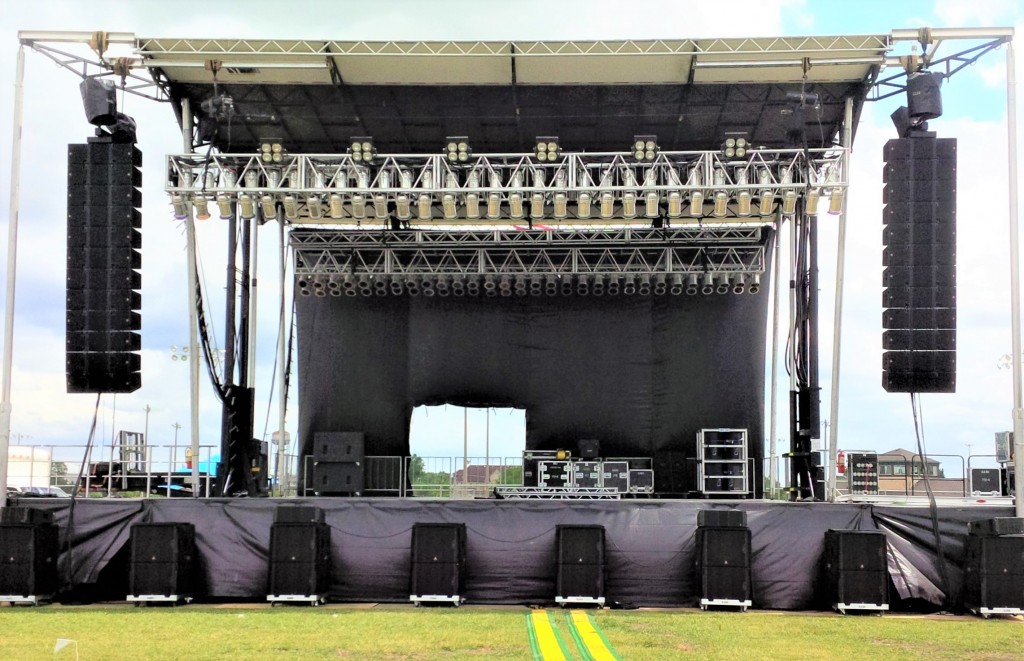 August 11, 2017
Gand Concert Sound, Elk Grove Village, IL, recently inaugurated their newly acquired Adamson E12 sound system at the first large scale outdoor festival of the season held at the ATI Field at Joliet Memorial Stadium, Joliet IL. Acts included Classic Rockers Kansas, 38 Special and Survivor. Contemporary Country bands included Billy Currington, Thousand Horses, and Kane Brown.
Gand Concert Sound started in 1976 to address the fledgling concert sound industry. 40 plus years in the trenches has brought many improvements and innovations to the company and their clients. Always on the forefront of audio technology, GCS continues to cut a path into the future.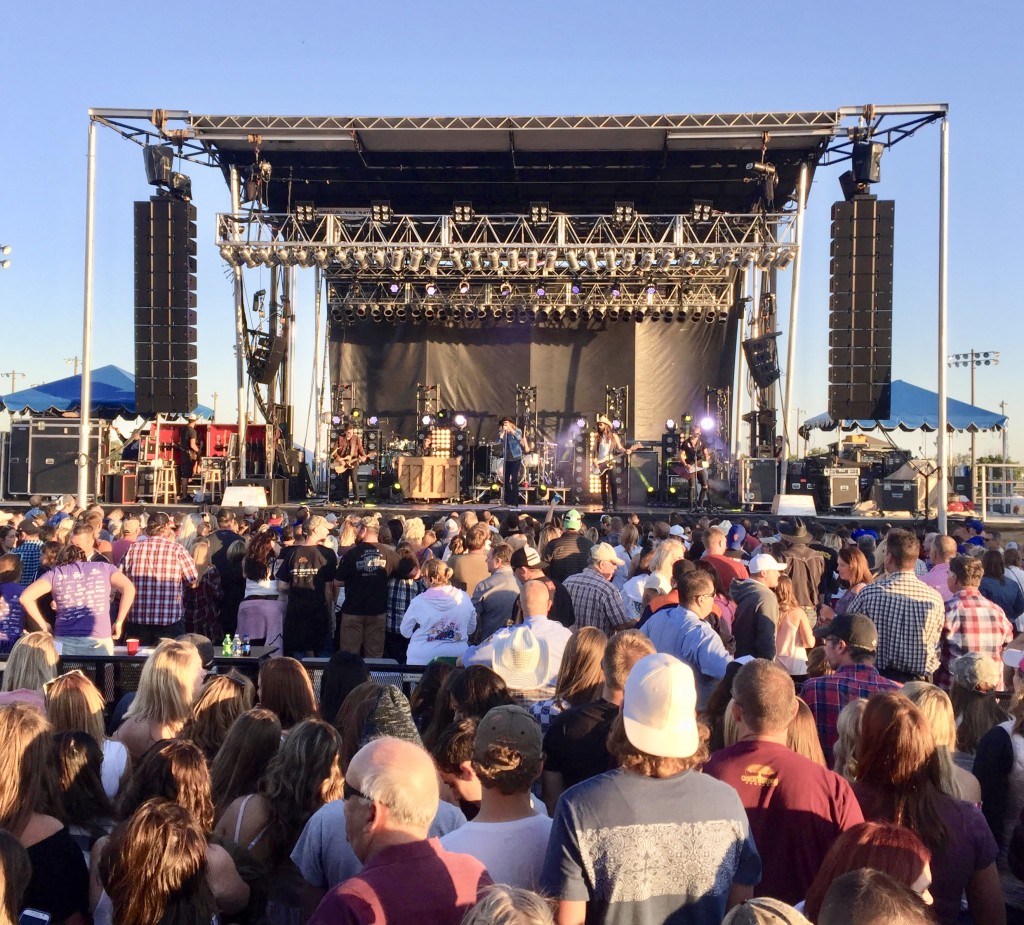 The Adamson rig included 24 E12 cabinets, 16 E119 subs, 4 S10 for front fill, all powered by 4 Adamson E-racks loaded with Lab-Gruppen PLM 20K44 amps. Lake LM44 processors drove the system from FOH. The entire system was connected digitally using a Dante network. FOH and monitor consoles were Avid Profiles.
GCS president Gary Gand said, "I walked out to the 100 yard line to enjoy the power of the Adamson rig, kickin' it hard and solid."  GCS vice president Tim Swan said, "Everyone involved was impressed." Various comments from band FOH engineers from the event included ""very impressed", "a big fan", "best Adamson rig ever", "extended-open HF", "did nothing to the house EQ ", "really tight & punchy", "threw forever".
System tech Nick Dahl, FOH tech Joe Perona and monitor tech Alex Kociper spent the prior week testing and configuring the system in GCS' large warehouse located near Chicago's O'Hare airport. Adamson Factory Certification was completed on site in the spring.
Joliet stagehands congratulated the GCS crew on the easy assembly of the first launch. Gary Gand said, "The stage crew was really impressed with the rig and how well it went together. These guy's are seasoned pro's and have set up all of our other rigs over the last 40 years. This was a new rig to us all and it couldn't have been better."
May 17, 2017
Gand Concert Sound has taken delivery of a large inventory of Adamson E12 and S10 line arrays, along with E19 subwoofers and E Rack 12 channel power amps.
President Gary Gand said, "After several years of research, we zeroed in on Adamson's new concert sound packages. We like dealing directly with a manufacturer for the best user interface".
Vice President Tim Swan said, "We were looking for a new rider friendly system that could work in all of the environments that GCS is known for. From large outdoor summer festivals and sports arenas to high profile corporate events in hotel ballrooms, and mid sized golden lady theaters."
Training took place in May with Adamson factory experts Brian Fraser and Rick Woida at Gand's warehouse near O'Hare Airport. "We gave the jumbo jets a run for their money." Mr. Swan said.
Gary Gand said, "The last decade has seen many refinements in line array technology and we think Adamson is the best new rig, so that's where we made our investment."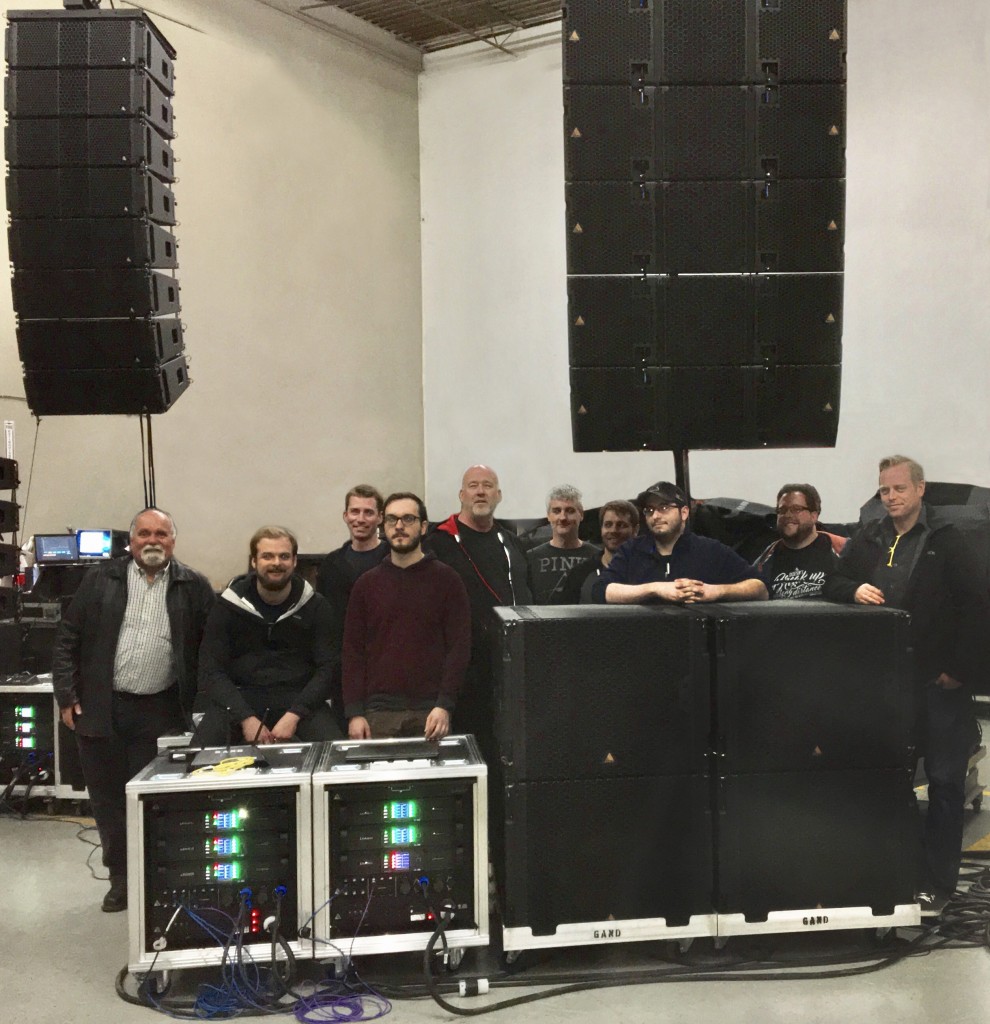 Nov. 5, 2015 in LIVE SOUND magazine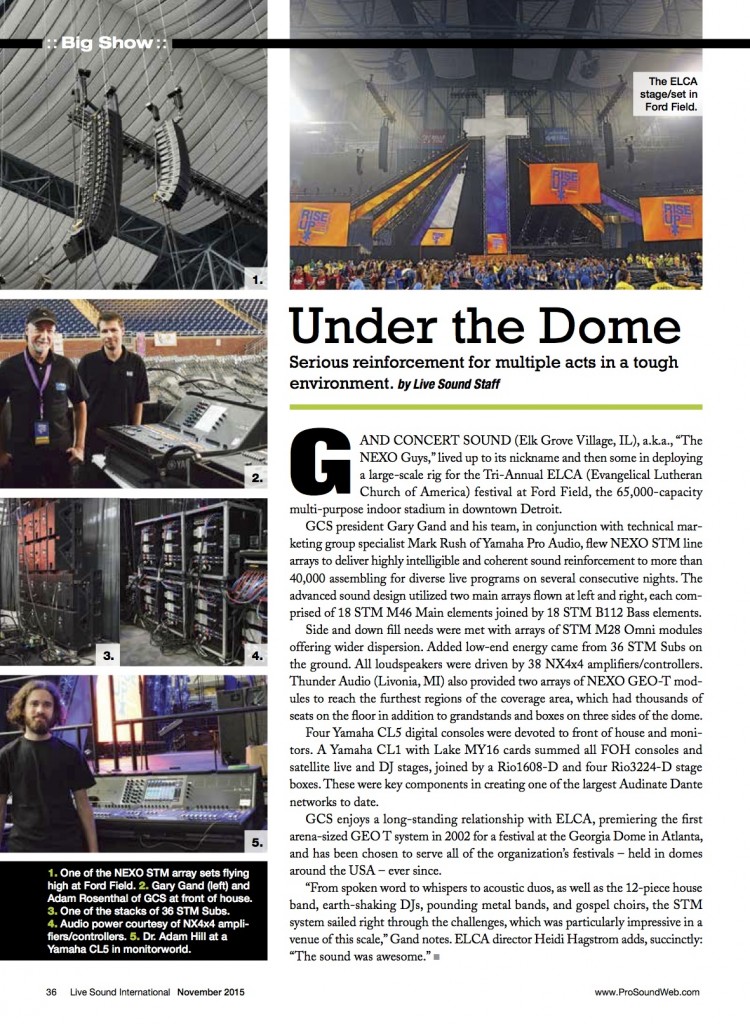 September 29, 2015
Gand Concert Sound (GCS), Elk Grove Village IL aka "The NEXO guys" recently completed a record summer month as well as their single largest day, by cabinet count, in the 39-year company's history. "July has become the month to beat after last year's record month for GCS," states Gary Gand, President.
"We had 450 NEXO cabinets in use on one day in mid July." said Tim Swan, Vice President. Chicago's annual Pitchfork Music Festival was held in Union Park. The Red and Green stages were once again handled by GCS. Headliner's included Wilco, Sleater-Kinney, and Chance the Rapper.
Chance Tour/ Production manager and monitor engineer, Aaron Patkin, said "Pitchfork was our big hometown show for Chance this year, so it was super important for us to knock it out of the park in front of a home town crowd. We brought in a ton of additional production from eight foot tall risers to background singers, a custom built logo to a huge lighting package. We even maxed out the I/O on the monitor desk. Gand's crew went above and beyond the call of duty to make sure that not only did we have everything we needed, but that the groundwork was laid for us to succeed at having our best show of the year. The whole team killed it, and I couldn't be more thankful for everyone at GCS making sure that Chance the Rapper and The Social Experiment was heard loud and clear not only by the crowd, but by each other."
The same day, Mile of Music, held in downtown Chicago featured two live band stages and one mile of speakers pumping music out to runners along a path near Lake Michigan. Rivers Edge Park in Aurora IL features a large GCS NEXO house system that hangs all summer for a variety of national acts. July shows included Smash Mouth, Toad the Wet Sprocket, REO Speedwagon, Little River Band and Hall & Oates.
What kicked July over the top was the Tri-Annual ELCA(Evangelical Lutheran Church of America) festival held at Detroit's NFL home Ford Field. GCS and NEXO premiered the first arena-sized GEO T system in 2002 at the Georgia Dome. Gand has been handling this event for the last five sessions including the Alamo Dome in San Antonio TX and two festivals at the Superdome in New Orleans.
"We thought this would be a great opportunity to test out the newer NEXO STM rig which I heard outdoors at the NEXO factory in France," Gand says. Yamaha team members assisted GCS in setting up the rig. The STM configuration consisted of 36 x STM M46 Mains, 36 x STM B112 Bass, 28 x STM M28 Side and downfills, 36 x STM S118 Subs, and 38 x NX4x4 amps. Thunder Audio of Livonia MI provided 24 x Geo-T speakers for delays.
The front end featured 4 x Yamaha CL5 consoles, a CL1 with Lake MY16 cards for summing all consoles, 4 xRIO3224-D and a RIO1608-D, creating one of the largest Dante networks to date (short of the recent Olympics).
Gary Gand noted that everyone from the ELCA agreed that this was the best sound ever for the event and that every seat in the house was covered in highly intelligible speech as well as gut wrenching music. From spoken word to whispers to acoustic duos, the 12 piece house band, earth shaking DJ's, pounding metal bands, to gospel choirs, the STM system sailed right thru the challenges of the 80,000 seat stadium.
ELCA Director Heidi Hagstrom said, "The sound was awesome."
Aug. 12, 2014
Gand Concert Sound Reports Record-Breaking Month In Serving Top Festivals & Backline Clients
Source: ProSoundWeb
Gand Concert Sound of Elk Grove Village, IL (a.k.a., "the NEXO guys") just wrapped up a record-breaking month of July 2014, beating the company's previous record for total gear and events served that was set in May, 2013.
GCS vice president Tim Swan notes "Our new warehouse is making it possible to handle the summer festival season with over 250 NEXO loudspeakers moving in and out on a daily basis." GCS has also added Yamaha Commercial Audio CL5 and Avid VENUE Profile digital consoles in the past year to meet national band riders.
Most recently, GCS provided sound reinforcement and support for both the Red and Green stages at the annual Pitchfork Music Festival, held for three days each summer in Chicago's Union Park.  The company's inventory of NEXO GEO T arrays delivered clear audio to more than 55,000 fans on hand for a wide variety of music, including alternative rock, rap and hip-hop, EDM, hardcore punk, experimental/avant-garde rock, and jazz.
Meanwhile, at Lollapalooza in Chicago's Grant Park, one of the longest running music festivals in the U.S., GCS band gear guru Ken Stevens provided a valuable helping hand after coming on board this year to handle the expansion of the company's backline presence.
GCS president Gary Gand states, "We started in the instrument rental business in the mid 1970s out of our award-winning retail music store, and quickly moved into concert sound and permanent installations in the following years. Now we've come full circle with a big expansion in back line."
Bands on the "Gand List" of recent clients include:
Jimmy Vaughn
Beck
Kendrick Lamar
St. Vincent
Maroon 5
America
10,000 Maniacs
Joan Jett
Smashmouth
Dirty Dozen Brass Band
Sonny Landreth
Pusah T
Mint Condition
Cold War Kids
The Head and the Heart
Portugal the Man
WAR
Average White Band
Dawes
Thao and the Get Down, Stay Down
Foghat
Blue Oyster Cult
George Thorogood